Categories
Categories
Brands
Brands
Fossil Darth Vader Light Up Flames Watch Silver Star Wars Li2546
Product Description
Fossil Darth Vader Flames Light Up Watch, New.
Star Wars Silver LI2546 Limited Edition of 2000
Sold out collectible animation wristwatch in new, unworn working condition.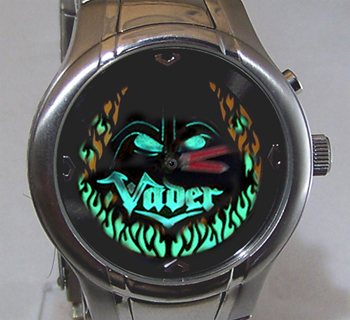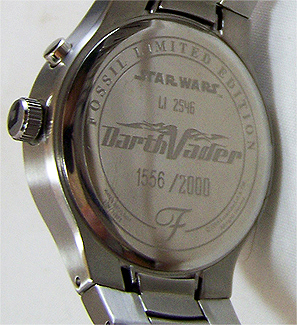 Darth Vader Fossil animated Flames Light up watch: The watch face features Darth Vader head with mask and helmet with Vader name logo as the mouth. Red Flames surround the image. But you press a button and, using patented technology, the Darth Vader eyes and mouth light up and begins to pulsate as eerie blue green flames replace the red flames and move up and around the watch. The Flames then pulsate for awhile and then the flames die down and change back to red orange color.

This is the rare silver version: Only 2000 were made. This watch was originally a sleeper, as people could only see photo images of the watch and did not appreciate what it looked like with the animation. But now that there are Youtube and other gif images that show the animation, the watch has become one of the highest demand Star Wars collectibles. View the video of the animation. We also have the more rare Black version of this watch listed elsewhere at a higer price.
This item is IN HAND: Don't get caught waiting on a drop shipper who must first go out and buy your item (assuming they are still available!)
Buy with confidence-- I am an Ebay Power Seller with 100% Positive Feedback on over 6500 sales--View my feedback and buy with confidence! ( Ebay user name: amberglow)
Any item received defective or damaged will be replaced AT MY COST including all return shipping AS IT SHOULD BE! Must notify us within 3 days of receipt. Problems developing after that time may be covered by the Manufacturers Warranty.
Florida buyers pay sales tax. All items ship U.S. Priority mail insured with Tracking. Note: International buyers must contact us prior to purchase for a shipping quote.
Click Here To Return to the Home Page and check out my other items!!
Product Videos
Find Similar Products by Category
Customers also viewed